The Philadelphia Main Line, known simply as the Main Line, is an informally delineated historical and social region of suburban Philadelphia, Pennsylvania, and is home to some of the best restaurants around. With so many amazing choices, it might feel overwhelming to figure out where to go or what restaurants offer what experiences. If you are looking for some fantastic spots to go where you can be relaxed in knowing that you will not only be taken care of but made to feel you are living a life of luxury, then we have just the places for you! Here is a list of some of the must-try restaurants on the Main Line:
Autograph Brasserie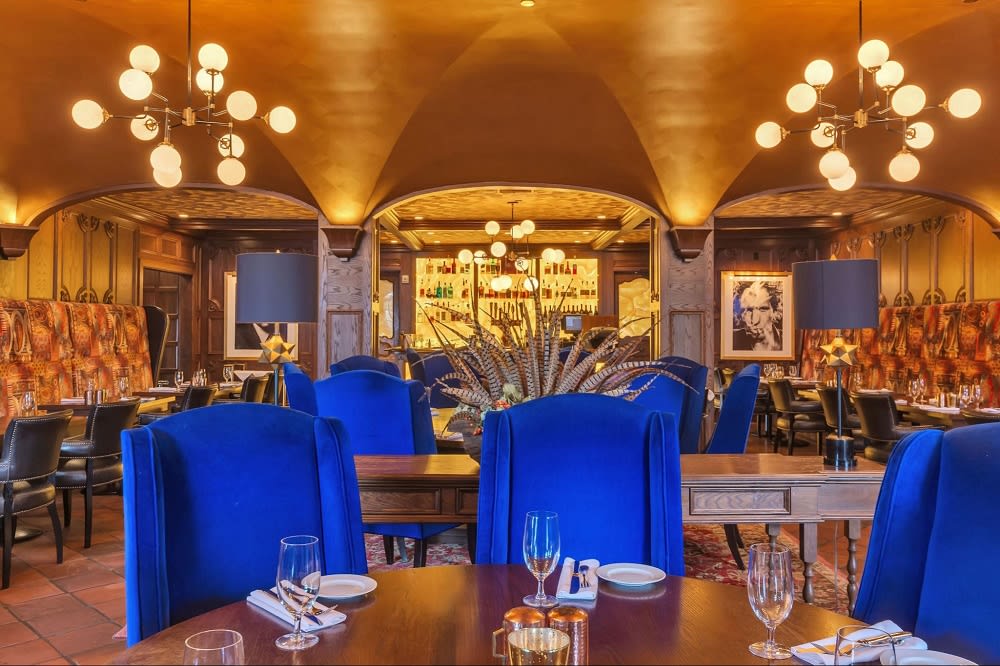 This
modern American brasserie
celebrates individuals from the past and present who have left their signature on popular American culture and cuisine. The menu, which is inspired by the flavors of the classic dishes, uses only the finest and freshest ingredients available. The restaurant's decor is covered in over 1000 celebrity autographs, music albums, and authentic photographs of those who have inspired the restaurant's food.
Their first course consists of dishes like octopus, burrata, jumbo shrimp cocktail, and yellowfin tuna tartare. You can enjoy favorites like butternut squash soup, lobster bisque, or baby kale salad for soups and salads. Entrees feature items such as veal Milanese, ribeye steak frites, moulard duck breast, cauliflower steak, filet mignon, Chilean sea bass, and braised short ribs. For dessert, partake in a whiskey fig cake, vanilla creme brulee, apple creme puffs, or chocolate budino. They also have an extensive wine list and signature cocktails like F-pom, It's Cool Hunny Bunny, The Fig is Up, and a White Cosmo.


The restaurant is open for lunch Monday through Friday from 12pm to 3pm, dinner Monday through Thursday from 4pm to 9pm, Friday and Saturday from 4pm to 9:30pm, and Sunday from 4pm to 8pm. Brunch is available on Saturdays and Sundays from 10am to 3pm.
The Duling Kurtz House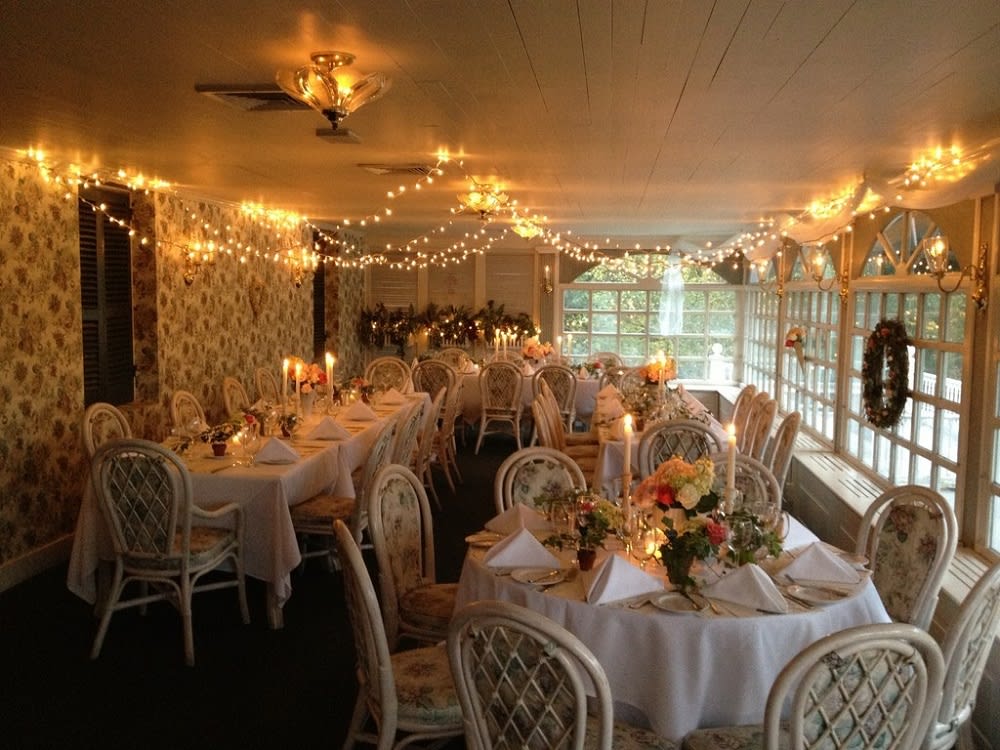 The Duling Kurtz House
has a rich history and a quaint charm that will transport you to another time. The hospitality you will receive mixed with the delicious food will make you feel as if the entire restaurant was made just for you. Proprietors Michael and Gertie Person received their formal training in Vienna, Austria and their food is so exquisite and divine you may forget that you aren't in Europe. It has won multiple awards from various publications if you need more convincing to try this elegant spot.
Their formal dining room is adorned with lights above your head, and the feeling is that of a garden party or tea shop. They also feature outdoor tables directly in their garden during the warmer weathered nights.


Their appetizers include dishes like grilled octopus, baked french brie, escargot, and oysters on the half shell. Enjoy a cup of French onion soup, seafood bisque, or roasted beet salad before your entree arrives. The main course has various options from land and sea, such as lobster crepes, New York strip steak, shrimp and scallops, rack of lamb, and Wienerschnitzel. To accompany your meal, you can choose a side dish of honey-roasted Brussels sprouts, herb risotto, or truffle fries. Make sure to save room for one of the decadent desserts such as raspberry linzertorte, Austrian cheese strudel, dark Belgian chocolate mousse, or the Duling Kurtz House cobbler. They also have an extensive drink menu that includes cocktails, beer, and wine.


If you would like to make a whole night of it, you can book a room at their adjoining inn. The restaurant is only open for dinner Tuesday through Sunday from 4:30pm to 9pm and is closed on Mondays. To make a reservation, you can either call the restaurant at 610-524-1830 or email them at
dulingkurtz@verizon.net
.
General Warren Inne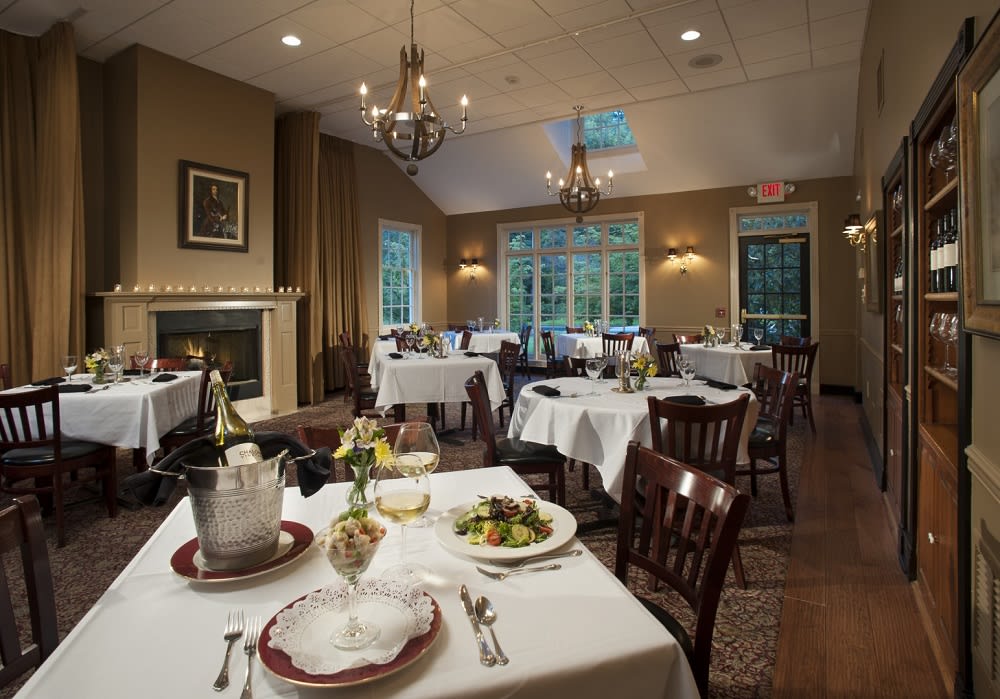 The
General Warren Inne
is a fine-dining experience and historic bed and breakfast currently celebrating 275 years of service. It is the perfect blend of old-world charm paired with excellent cuisine. Executive chef Joshua Smith is local to the area and uses locally-sourced food and classic techniques to make some of the best-tasting dishes you will ever try. Their motto is to deliver amazing food and fantastic spirits from around the world with hospitality that makes you feel as though you are family. You will definitely feel as if you just walked into a home with the 18th century decor and beautiful fireplaces keeping you warm while you eat, or during the warmer months, enjoy a seat outside surrounded by lit-up bushes and gorgeous scenery.
Their hors d'oeuvres include small bites such as lobster empanadas, snapper soup, rainbow chard salad, and truffled filet tips. For your entreé, you can choose from delectable dishes such as North Atlantic halibut, steak frites, roasted pork gnocchi, chicken schnitzel, pan-seared branzino, beef wellington, seared ahi tuna, or steak au poivre. For dessert, you can enjoy an apple crumb galette, a cannoli tart, praline pecan cheesecake, seasonal mixed fruit, or you can even take home a tin of their housemade fudge. This is another restaurant where you can make a whole night of it and book a room at the adjoining inn.


The restaurant is open for dinner only, Tuesdays through Thursdays from 4pm to 9pm. You can also book this venue for weddings and private parties. You can make a reservation by calling the restaurant directly at 610-296-3637 or booking online through their website.
Ludwig's Grill and Oyster Bar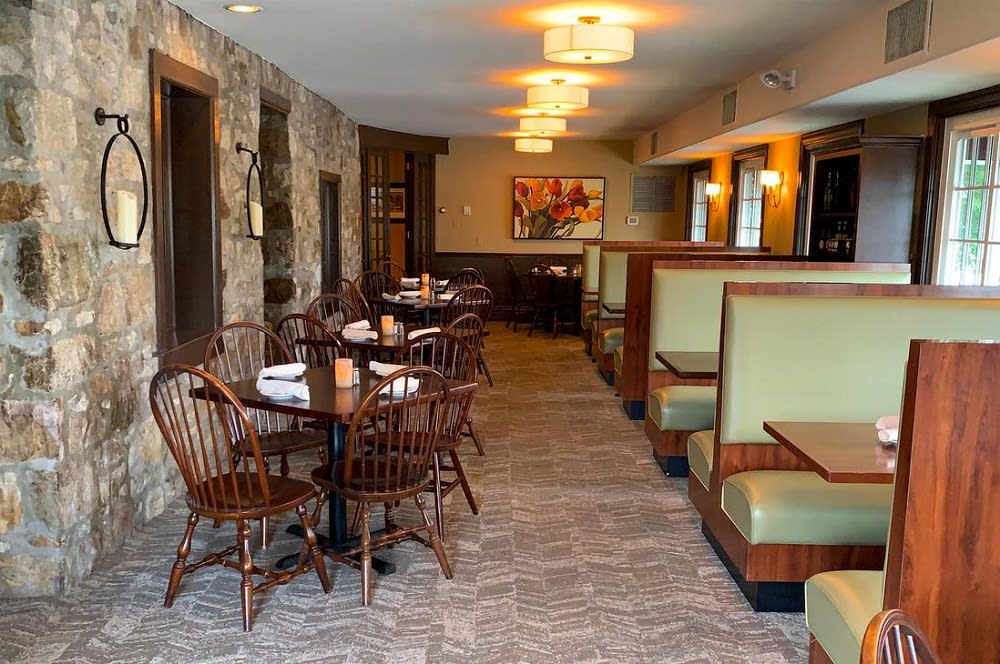 Ludwig's Grill and Oyster Bar
, which has been around for 27 years, is another restaurant with a homey feel to it. They have a beautiful stone fireplace to add ambiance and warmth to the room and make you feel nice and cozy while you eat. The delicious food is made with organic and all-natural products whenever possible. They keep in constant contact with their purveyors to ensure you are getting the freshest, most sustainable, and fantastic-tasting food every time. They are open for lunch, but dinner is where the magic is.
They have appetizers such as grilled oysters, lobster mac and cheese, steamed mussels, and shrimp and bacon. Try one of their flavorful soups with options including applejack French onion and lobster bisque. They also have a variety of salads like wild mushroom and burrata, shrimp and crab, and steak caesar. There is a complete raw bar with crab, shrimp, and various oysters. Try the filet mignon, seared scallops, pork ribeye, or organic Norwegian salmon for dinner. There is creme brulee, sticky toffee cake, chocolate lava cake, or warm butter cake with berry compote for dessert.


The restaurant is open Mondays and Tuesdays from 4pm to 8pm for dinner only, Wednesday through Saturday from 11:30am to 9pm with lunch served until 2:45, and Sundays from 3pm to 7:30pm for dinner only.
Main and Vine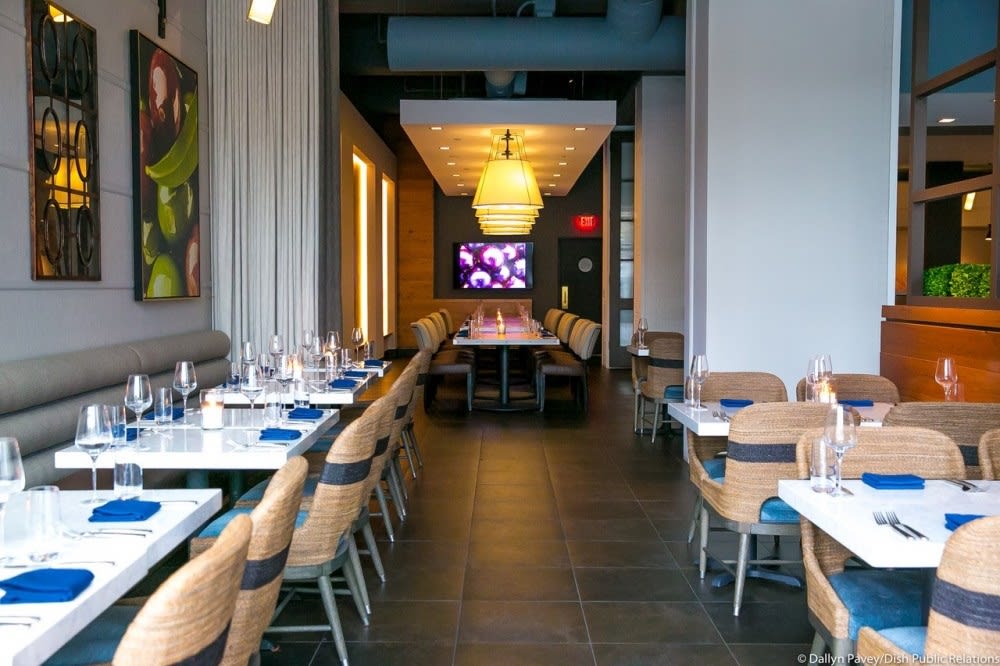 Main and Vine
is a modern bistro that brings a piece of Northern California to Pennsylvania. They welcome their guests to come to enjoy the west coast spirit and farm-to-table vibe in a sophisticated, hip, yet relaxed atmosphere. The interior of the restaurant has a lounge-type vibe with modern furniture and accents. You are sure to feel like an A-list star from the time you enter to the time you depart.
Their menu includes appetizers such as oysters, burrata cheese, baked sourdough, sweet potato hummus, roasted artichokes, calamari, shrimp tempura, and lamb meatballs. For your main course, choose from items such as San Francisco cioppino, baked black grouper picatta, ribeye steak, duck breast, or Chilean sea bass noodle bowl. They also have Napa-style sourdough pizzas, including the eggplant Parmigiano, spicy coppa ham, mushroom Bianca, Margherita, and lamb sausage arrabiata. Their craft cocktails include signatures like The Franciscan, Sonoma Paloma, Clarksburg Sour, Napa Apple, and Vic's Mai Tai. There are also plenty of options of beer and wine available. To finish off your meal, the desserts include delicious treats such as a double chocolate devil's cake, a semolina cake, a pumpkin cheesecake tart, and a rocky road budino.


The restaurant is open Monday through Thursday from 11:30am to 2:30pm and then from 4pm to 12am, Fridays from 11:30am to 2:30pm and then from 4pm to 1am, Saturday from 4pm to 1am, and Sundays from 4pm to 12am. You can make a reservation on
Open Table
.
No matter which of these restaurants you try, you are sure to have an amazing time and want to come back for more. Each will leave you with a one-of-a-kind experience that you won't be able to wait to share with your friends and family. We are sure you will be returning to these restaurants for years to come.


If you are interested in Main Line real estate or real estate in one of the surrounding areas, contact the fantastic real estate agents at
The Stephanie MacDonald Team
and set up your appointment to get started on your housing journey today!