The Philadelphia Main Line, referred to as the Main Line, is a region of suburban Philadelphia, Pennsylvania. Named for its location next to the former Pennsylvania Railroad's Main Line, the Main Line is home to some of the wealthiest communities in the country.

The Main Line lies along Lancaster Avenue, a mostly upper and upper middle-class enclave of people whose predecessors created these "old money" towns. The original towns on the Main Line are Overbrook, Merion, Narberth, Wynnewood, Ardmore, Haverford, and Bryn Mawr. Bala Cynwyd, Wayne, Paoli, and Malvern are also grouped in with the core towns.

In addition to the seven principal communities mentioned above, there are many nearby communities worth a visit, such as Gladwyne, Villanova, Radnor, Strafford, Devon, and Berwyn. With this many places, there is bound to be a multitude of family-centered activities to engage everyone in your family. Keep reading for some ideas on how to spend your day with the entire family!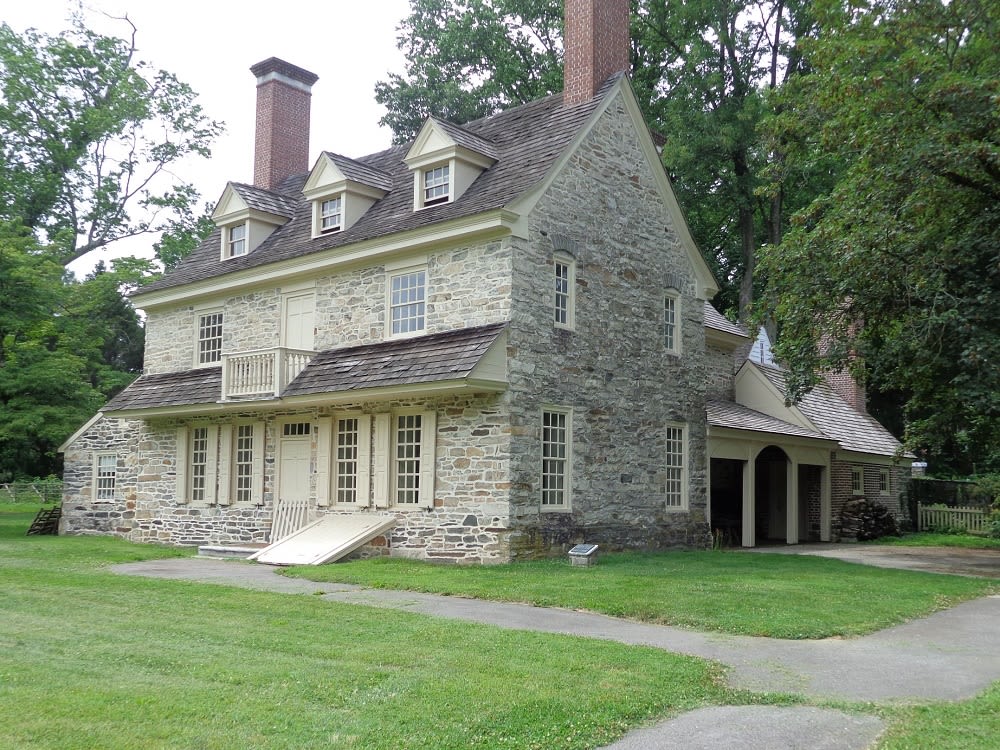 Photo courtesy of Tripadvisor
Go learn something
There are a number of places in these communities that provide opportunities for learning, whether you are an adult or a child. There is so much historical significance associated with the Main Line that it would be a waste not to learn about its past and pass that knowledge on.

The Harriton House, built in 1704, was originally named Bryn Mawr, which means high hill. The most famous occupant of this historic house was Charles Thomson, Secretary of the Continental Congress. Visitors who tour Harriton House can learn about the property's history, Charles Thomson, and the home's previous owners.

The Historic Grange Estate, also known as Maen Coch and Clifton Hall, is a historic mansion located in Havertown. The estate is 10 acres and is the site of several other historic structures. The original house dates back to 1682 and is one of the longest-standing buildings in the state. The preservation, restoration, and promotion of the property are vital to honoring the American and Haverford Township heritage. Come explore the mansion and the grounds, and experience this hidden gem in the heart of Haverford Township.

The Newton Square Historical Society was formed in 1984 to "protect, preserve and promote the historic resources of the Township, as well as to tell its story." It is a nonprofit organization run by volunteers. There are five historic sites open to the public: Bartram's Covered Bridge, The Square Tavern, Paper Mill House, Hood Octagonal Schoolhouse, and Old St. David's Church.

Nitre Hall is a 19th-century building in Haverford. Built in 1810, it was the residence of the powder master of the Nitre Hall Powder Mills. It is maintained by the Haverford Township Historical Society. The organization also rebuilt and furnished the Lawrence Cabin and the Federal School, both of which are also open to the public. The Historical Society hosts open houses and special events to promote and sustain interest in the history of the community.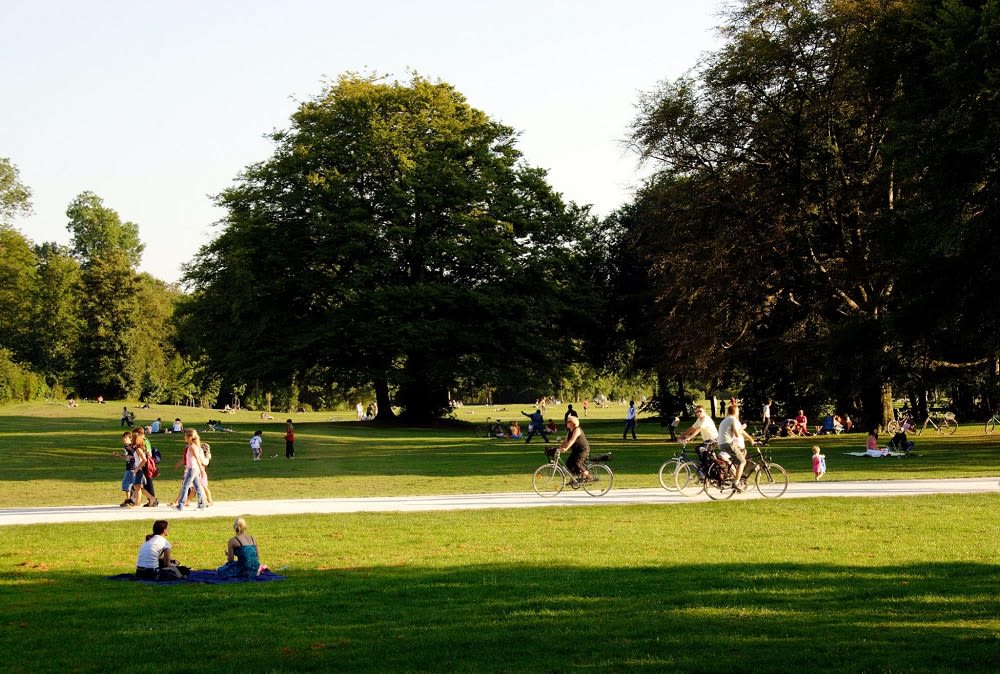 Take a trip to the park
One thing that the Main Line has is loads of parks. Whether you are looking for a traditional grassy park where you can have a picnic or a park with recreational activities and jungle gyms for the little ones, the towns on the Main Line have plenty to offer.

Ashbridge Memorial Park is a 28-acre park in Bryn Mawr that provides parkgoers a variety of options to spend the day. There is Ashbridge House, a historic farmhouse, a walking path, two tennis courts with pickleball lines that share a net on both courts, a playground, and a passive open space.

Vernon V. Young Memorial Park is located in Ardmore. The park's amenities include basketball, volleyball, shuffleboard, and tennis courts, softball and baseball fields, a playground, a tot lot, a swimming pool, and barbecue grills and picnic tables, all within the park's 5.2 acres.

Flat Rock Park in Gladwyne is a 24.3-acre riverfront nature park with picnic tables and boat ramps. A relaxing and laid-back park, it's the perfect place to bring the family for a serene day outdoors.

Clem Macrone Park in Radnor accommodates a whole host of activities on its 9.4 acres. There is an athletic field, a bandshell, a baseball diamond, basketball and tennis courts, a community wetlands habitat, a nature trail, a picnic pavilion with a grill and picnic tables, a playground, a pond and stream, and a running trail.

Bala Cynwyd Park is a 13.4-acre park that provides compliant access to the 1.8-mile Cynwyd Heritage Trail. Among its many amenities are baseball and softball fields, basketball and tennis courts, a tot lot, and a playground.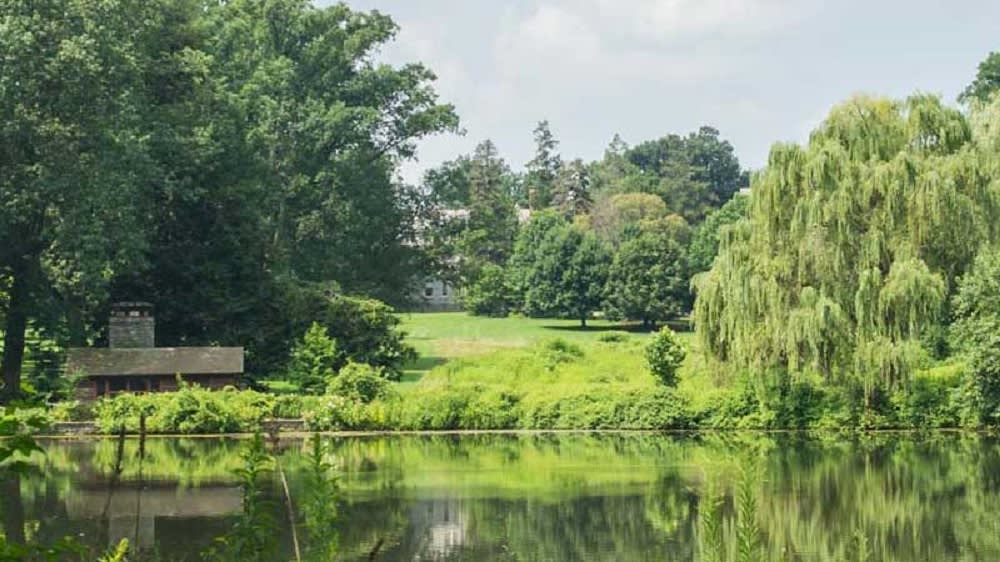 Photo courtesy of haverford.com
Spend some time in the serenity of nature
The Main Line has myriad open nature spaces where you can experience an abundance of beautiful scenery and wildlife in their natural habitats. While many of these are parks and hiking trails, what makes these special is how enveloped by nature and wildlife they are.

The Haverford College Arboretum is on the 216-acre campus of Haverford College. It contains mature oaks and maples, specimen trees, flowering trees, and natural woodland areas.

Skunk Hollow Park is 93.7 acres of undeveloped woodland in Radnor with hiking trails and fishing in Little Darby Creek. The Radnor Township purchased the Skunk Hollow land to conserve the area's natural open space. There is also a popular community garden, and you can spot all kinds of wildlife in their natural habitat.

Merion Botanical Park is a 13-acre park that is mostly lawn and planted specimen trees and shrubs. There are signs with QR (Quick Response) codes you can scan to read about each species. The park is maintained by The Botanical Society of Lower Merion, which is committed to restoring the area and providing a habitat for diverse wildlife, which includes 85 species of birds.

The Barnes Arboretum is located on the campus of Saint Joseph's University in Merion. Visitors are encouraged to explore the grounds and learn about the rare plants and breathtaking blooms that thrive here. The 12-acre arboretum is extremely diverse given its small size, with over 2,500 varieties of woody and herbaceous plants, many of them rare. The peony and lilac collections, which date back to the early 1900s, are important genetic resources.

Ithan Valley Park, formerly called Grow Tract, was once part of an old estate. The 19 acres are now used as a park and conservation area. The prior owners of the land created the arboretum with their collection of rare species of trees from around the world with the intention of identifying them. The park is open to the public, who enjoy its hiking trails, Ithan Creek, and nature area. Friends of Ithan Valley Park are collaborating with other organizations to set aside a portion of the park as a bird sanctuary.
Do you want to know more?
If you are interested in houses for sale in Bala, Merion, Ardmore, Haverford, Bryn Mawr, Villanova, St.Davids, Wayne, Berwyn or anywhere else in the Main Line area contact The Stephanie MacDonald Team. They will be happy to help you with all of your inquiries.
*Header Photo courtesy of cottageindustriesinc.com